Electronic Press kit
"

The rich tones of De Lorenzo's lilting voice (on the CD "I Know More Now") pull the listener in and enhance every cut on a gilded album which presents still more found treasures by a singer who deserves to be better known." - John Hoglund
"

Although I saw a few good tributes to Sinatra this year, nobody brought such fizzy joy to the centennial occasion as De Lorenzo. A consummate musician who makes you feel he's having the time of his life every moment he's on stage, which only adds to your enjoyment." - Kevin Scott Hall
"

There are good shows and there are great shows, but once in a blue moon you're at a cabaret and you know something extraordinary is going on." - Beverly Creasey
"

Brian De Lorenzo is on the small list of today's great masculine voices." - Ron Forman
"

Although the title of Brian De Lorenzo's Found Treasures refers to the songs it contains, the cabaret singer is one himself. Possessing a clear tenor which he uses with earnest emotional intensity, De Lorenzo sings with complete commitment." - Max O. Preeo
— Show Music
"

(On the Original New York Cast Recording of "Made in America: Vaudeville Songs") it's the sole male member of the troupe who gets the lion's share of the material. That's fine by me, as he's the versatile and strong singer Brian De Lorenzo. The guy has a real flair for the period style. Whether turning on the charm with a showy bit of flash or a sentimental ballad with his pure, high voice, he's perfect casting." - Rob Lester
Biography
Brian De Lorenzo
CONCERT & CABARET PERFORMER
Talent America's 2001 "Performer of the Year" BRIAN DE LORENZO is equally at home in theatres, concert halls, jazz clubs and cabaret rooms including venues in New York (The Metropolitan Room; The Iridium; Don't Tell Mama; Eighty-Eight's), Boston (Scullers Jazz Club; Club Café), Rochester (Downstairs Cabaret Theatre), Provincetown, Key West, and Puerto Vallarta, Mexico (The Palm; Incanto) as well as cruise ships in Alaska, the Mediterranean, and crossing the Atlantic. 
He has sung at the prestigious Mabel Mercer Cabaret Conventions in New York and Chicago, at three Boston Cabaret Festivals, the International Cabaret Festival in New York, The Cape Cod Cabaret Festival, and numerous times at CabaretFest! in Provincetown.  
In November of 2022, Brian premiered a song--"Things Will Get Better"--which he wrote during the Covid-19 lockdown, and will release it as a single on May 19, 2023. Brian has performed tributes to Sinatra & Tony Bennett ("Sinatra, Tony, & Me") and to Nat King Cole at New York's Metropolitan Room & Boston's top jazz club, Scullers. He has appeared at Puerto Vallarta Mexico's top cabaret rooms, The Palm and Incanto. Brian's show Come Fly with Me – Brian De Lorenzo Celebrates Sinatra at 100 was named "Top Ten of New York Cabaret 2015." Along with other alumni of the State University of New York (SUNY) at Fredonia he performed at the 50th Anniversary Celebration of the Rockefeller Arts Center, accompanied by the Little Apple Big Band and the Western New York Chamber Orchestra. 
Brian's debut recording Found Treasures was nominated for the "Recording of the Year Award" by the Manhattan Association of Cabarets & Clubs (MAC). He is also featured extensively on the original cast recording Made in America: Vaudeville Songs, a tribute to the Gumm (Judy Garland) family in which he starred at Don't Tell Mama in New York City. In 2020, just as the pandemic was starting, he released a new recording of contemporary cabaret and musical theatre called I Know More Now. This year, he will head into the studio with a small big band to record swing numbers from the Great American Songbook.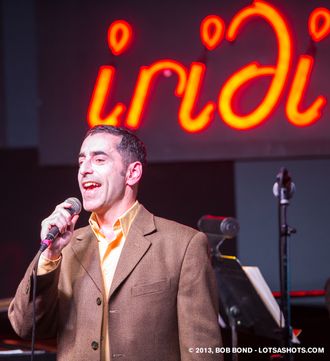 Press Photos