Biography
"Top Ten of New York Cabaret"
Talent America "Performer of the Year"
Talent America's "Performer of the Year" and "Top Ten of New York Cabaret" Brian De Lorenzo is an award-winning singer, actor, and songwriter equally at home in nightclubs, concert halls, and theatres. He has traveled from Alaska to England and from the Mediterranean to Mexico to sing for appreciative audiences.
Brian enjoys performing a variety of music including songs from "The Great American Songbook;" musical theatre; pop; and contemporary cabaret. He especially enjoys performing songs that may be less familiar to audiences.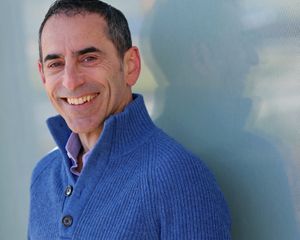 With that in mind he created a cabaret show; and subsequently his first recording Found Treasures, which is primarily songs from lesser known musicals. The recording was nominated for the "Recording of the Year Award" by the Manhattan Association of Cabarets & Clubs (MAC).
In November of 2022, Brian premiered a song -- "Things Will Get Better" -- which he wrote during the Covid-19 lockdown. It was released as a single on May 19, 2023.
Of his latest album, I Know More Now, entertainment writer John Hoglund said, "De Lorenzo has a penchant for story songs that pack a profound punch. In this regard, he is always committed and gives thrilling interpretations of old and new gems that speak from the soul."
He is featured extensively on the original cast recording Made in America: Vaudeville Songs, a tribute to the Gumm (Judy Garland) family in which he starred at Don't Tell Mama in New York City.
He is in the process of recording swing numbers and ballads from the Great American Songbook with a big band, and hopes to release the first of two albums in the winter of 2024.
He is a founding member of the Boston Association of Cabaret Artists (BACA) and served as the organization's president for four years. He has also served as vice president (three years) and treasurer, and was editor of their newsletter, BACA News, for more than four years. Brian used to write the column on Boston-area cabaret news for the international cabaret magazine, Cabaret Scenes. He holds a BFA in Musical Theatre from The State University of New York at Fredonia (Fredonia School of Music).
AWARDS • NOMINATIONS • RECOGNITION
 

Talent America's 2001 "Performer of the Year" 

 

"Top Ten of New York Cabaret" 2015 

 

Talent America "Blair Hammond Award" for Musical Theatre 

 

The Wild Party – "Best Ensemble" IRNE* Award 

 

Assassins – "Best Theatre Production of the Year" – The Boston Globe 

 

Marry Me (a Little) Solo Cabaret – "Best Cabaret Show" IRNE* Nomination 

 

Mama, a Rainbow – "Best Cabaret Show" IRNE* Nomination 

 

How Was I to Know? – "Best Cabaret Show" IRNE* Nomination 

 

A Christmas Carol – "Best Musical" IRNE Nomination 

 

On the Twentieth Century – Elliot Norton "Outstanding Musical" Award 
* Independent Reviewers of New England 
CABARET & CONCERT APPEARANCES 
The Metropolitan Room, The Iridium, Don't Tell Mama, Eighty-Eight's, the New York Cabaret Convention, and the International Cabaret Festival in New York

Featured performer with the Western New York Chamber Orchestra, the Parkway Concert Orchestra, and the Little Apple Big Band 

The Chicago Cabaret Convention – two appearances 

Scullers Jazz Club and Club Café (Boston) – multiple appearances  

The Boston Cabaret Festival – three appearances  

The Pheasantry Jazz Club (London) 

The Palm, and Incanto (Puerto Vallarta, Mexico)  

The Cape Cod Cabaret Festival 

CabaretFest! Provincetown – multiple appearances
THEATRE CREDITS 
Overtures Productions' The Baker's Wife with Broadway star Judy Kuhn 
Overtures Productions' On the Twentieth Century with George Dvorsky and Tony Award winner Alice Ripley 
"Bob Cratchit" in A Christmas Carol at North Shore Music Theatre 
"Phil D'Armano" in Andrew Lippa's The Wild Party at New Repertory Theatre ("Best Ensemble "IRNE" Award) 
"Max" in Lend Me a Tenor at Pioneer Valley Summer Theatre in Easthampton, MA 
"Pete" in Little Mary Sunshine and "Mr. Erlanson" in A Little Night Music at the Barnstormers in Tamworth, NH 
"Dr Madden/Dr Fine" in Next to Normal 
"Jinx" in three productions of Forever Plaid 
"Bentley Summerhays" in G.B. Shaw's Misalliance 
"Zangara" in the Boston professional premiere of Sondheim's Assassins 
The "Head Waiter" in She Loves Me 
"Mordechai" in a European tour of the Elizabeth Swados musical Esther 
"Charlie" in Tintypes 
"Charley" in Merrily We Roll Along 
13 seasons of A Christmas Carol at five theatres 
The Boston premiere of The Gig 
"Frankie" in the Boston company of Forever Plaid 
The New England premiere of Moby Dick: An American Opera 
They're Playing Our Song 
Grease 
Candide 
Evita 
A Day in Hollywood...A Night in the Ukraine 
Banned in Boston (world premiere) 
Philip Glass's The Juniper Tree (world premiere) at American Repertory Theatre (A.R.T.) in Cambridge, MA. 
Philip Glass's Fall of the House of Usher (world premiere) at American Repertory Theatre (A.R.T.) in Cambridge, MA